Our Approach
We are a community of Christians supporting each other to take meaningful action in the face of imminent and catastrophic anthropogenic climate change. Inspired by Jesus Christ, and social justice movements of the past, we carry out creative acts of protest, and non-violent direct action to urge those in power to make the change needed.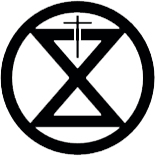 The purpose of Christian Climate Action
To demonstrate the urgency and scale of the climate crisis
To inspire Christians and the church to take meaningful action
To communicate and demonstrate the vital role of non-violent direct action in tackling the climate crisis.
To create safe spaces for people to emotionally process the effects that climate change has already caused to our planet and what it threatens to destroy if we carry on as business as usual.
Next Steps…
Sign up for mailings here
Join us on one of the actions happening in Belgium on the Events page
Find us on facebook... follow us, like us … 🙂
Get your friends to join in!!
The sort of thing we think..
We are called to be faithful, not successful.
However, we try to be wise with our choices and prayerfully discern the best cause of action.
Our actions don't have to be perfect. As Gandhi said, they are all "experiments with truth".
We are ourselves part of the problem we are fighting. As Reinhold Neibuhr stated "We must contend against evil, even though we know that we are ourselves involved in the evil against which we contend".
Our faith is a participatory faith and we are all called to be part of the renewal of God's creation.
We must always adhere to the principal of nonviolence.
Being faithful to God is a journey which might sometimes mean non-compliance with ruling authorities.